Cruise News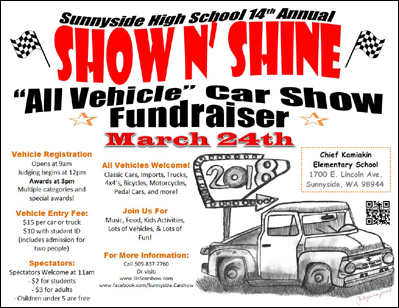 Date:
March 24, 2018
Time:
9 a.m. - 3 p.m. (Awards at 3:00 p.m.)
Location:
Sunnyside,
Washington
Description:
Sunnyside High School 14th Annual Show n' Shine
March 24, 2018
Chief Kamiakin Elementary School
1700 E. Lincoln Ave.
Sunnyside, WA 98944
Registration opens at 9 a.m.
Registration Fee - $15.00 per vehicle
$10.00 with student ID
(Includes admission for two people)
All years, makes and models welcome!
Classic Cars, Imports, Trucks, 4x4's,
Bicycles, Motorcycles, Pedal cars and more!
Multiple categories and special awards!
Spectators welcome at 11 a.m.
Spectator Fees - $2.00 for students
$3.00 for adults
Children under 5 are free
Join us for music, food, kids activities,
lots of vehicles and lots of fun!!
For more information, call 509-837-7760 or
email shs.carshow@live.com
It's easy to share this event on Facebook, Twitter, LinkedIn and more,
using the buttons below !
Click
HERE
to return to the previous page